Two cosy rooms in an old family guest house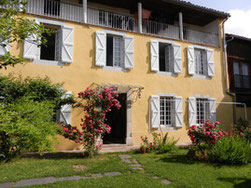 Spring is arriving. Take a few days to discover blooming nature while snow still coats the mountains.

For Easter, go to a concert at the Sacred Music Festival in Lourdes.
Facing the Pyrenees, la Souleillane, an old master farm built in 1822, has been renovated to welcome our guests with the best comfort. It offers two rooms accommodating 6 people. Staying at la Souleillane means high quality rooms for very reasonable price in a very special place and house. It is certified 3 epis by Gites de France.
Fabienne and Jean-Luc (native from the area) are the owners of the place and live there with their children :
"we are fond of this valley of the Pyrenees. And we wish to share with our guests our interest in the mountains and in the traditional life and cooking. Exchange with different people from various countries over a fine dinner or breakfast is the reason why we chose to have a guest house".
The Souleillane accomodation is ideally located to visit the central Pyrenees : the architectural jewel of St Bertrand de Comminges and prehistoric caves of Gargas, some of the most famous sites of South West France  (Lourdes, Pic du Midi, Gavarnie, Toulouse).
You can also stop at La Souleillane before crossing the Pyrenees towards Spain (only 40 minutes before the border) or when driving from the Atlantic Ocean to the Mediterranee  ( 10 minutes from the motorway A64).