Dinner and local restaurants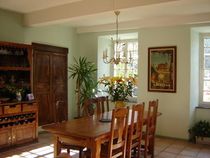 We propose you to dine with us on some evenings but don't forget to book the dinner.
Fabienne cooks traditional typical local meals with fresh products from the garden or from farmers markets around.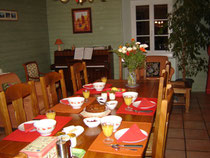 Example of dinner at la Souleillane
Aperitif : moscatel

Fresh lettuce with farm goat cheese on toast
Duck filet and mashed potatoes and carots
Local sheep cheese
Strawberry tart
Breakfast can be served in the dining room or in the garden when the weather is sunny . You will have : orange juice, tea, coffee or hot chocolate, fresh bread, home made cake or croissant, home made jam, fresh fruits and yogourts.
We can prepare a lunch box on reservation : 8 euros.
You have on disposal a fridge, a microwave, a barbecue and tables in the garden and under the barn if you wish to have picnics.
Local recommended restaurants
Various restaurants are available in villages around, a very simple restaurant is possible within 5 minutes walk from la Souleillane.
If you wish something more special, we can recommand you :
At 1,5 km in Nestier : Le Relais du Castera opened from wednesday noon till sunday noon. Very good traditionnal and fine food, good quality price. Menu at 18 euros for lunch, 26 et 33 euros for dinner plus wine (it is better to make a reservation on weekend and during August). tel : 33 (0)5 62 39 77 37
At 1,5 km in Nestier : Le restaurant du Mont Arès opened from tuesday noon till sunday noon. In a very special place with a view on the valley .Good traditionnal food, good quality price. Menu at 17 - 22 euros for dinner plus wine. tel : 33 (0)5 62 40 10 56  www.mont-ares.fr
A 8 km in Lannemezan : Le Pré Vert ( restaurant in the golf of Lannemezan) open from wednesday till sunday noon.Traditionnal food. "Gascon menu" and varied meats. It is possible to eat outside viewing the golf in summer. tel : 33 (0)5 62 98 58 77